How to write a map analysis
A map analysis is a formal assessment that describes what kind of mapping decisions were made in a beatmap and why. It is meant to inform the reader. When you write a map analysis, it should be worded as if you're explaining the map to the reader.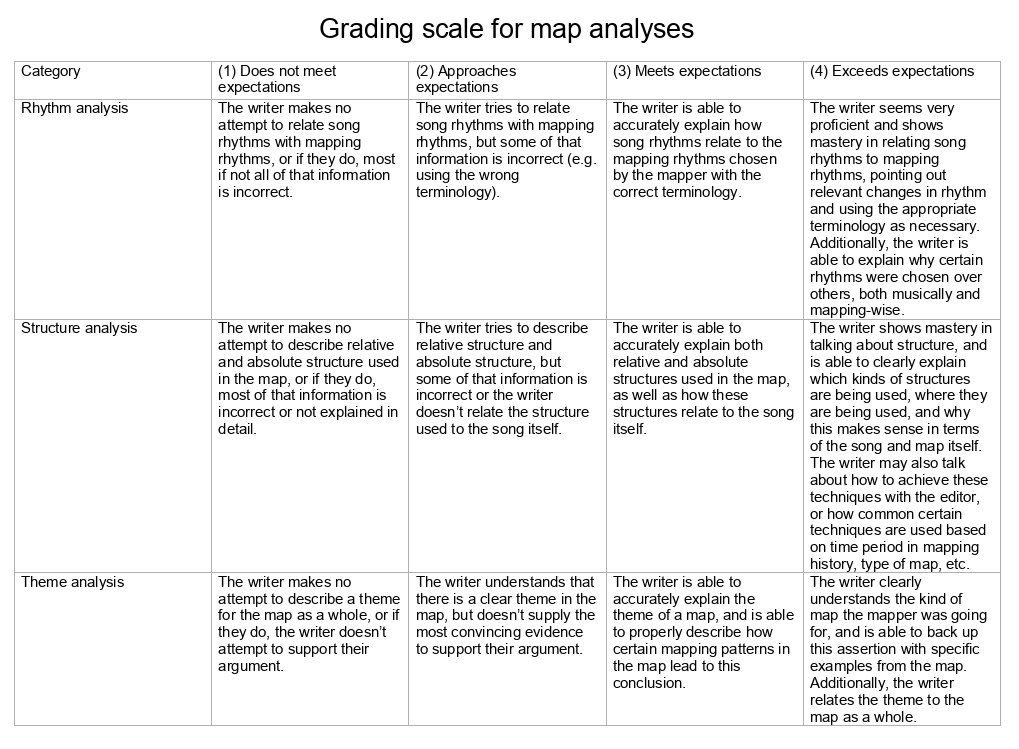 Fundamentally, a map can be well understood based on 5 key principles: rhythm, structure, theme, song, and movement.
Rhythm: What mapping rhythms are used and why?
Structure: How are the objects placed on the grid overall?
Theme: What is the mapper trying to accomplish?
Song: What attributes are present in the actual song being mapped?
Movement: How is a player supposed to move throughout the map?
When writing map analyses, you should explain why certain choices were made in a map, not just that these choices were made. More specifically, an analysis is not merely what a map does. Instead, you should think like a mapper, which means justifying why certain mapping rhythms, structure, or other patterns were used in a map.
Bad: The rhythm changes at 01:29:002 - and the map changes to follow this.

Why is this bad? We don't know if you're talking about mapping rhythm or song rhythm, and we don't know how the rhythm changed. We also don't know how the map changes to follow this.

Good: At 01:29:002 - (chorus start), the first measure has emphasis on beat 1, with off-beat vocals for the rest of the measure. Then, the second measure has the emphasis on beat 3 with "san san" being sung. The mapper emphasizes this change in the song by mapping the downbeat of the second measure with passive rhythm, then placing 2 1/2 sliders as active rhythm on beats 3 and 4. This directly contrasts the first measure, which used a 1/1 slider on the downbeat, followed by the 3 1/2 sliders on the off-beat to follow the syncopated vocal.

Why is this good? We know what the song is doing rhythmically, as well as how the mapper is changing mapping rhythm to follow the song properly. We also compare rhythms between measures, since in a song, many measures are often related to one another, especially when thinking in terms of periods and phrases.
The goal of map analyses is for you (the writer) to understand what kind of mapping decisions were made in a beatmap and why. Therefore, grading for map analyses is focused more on the content itself than the presentation thereof.
In general, it is a good idea to use paragraphs to help separate trains of thought. You may also want to refer to the mapper by their name, but avoid generalizing a map based on the mapper's previous maps. The analysis should focus on the current map at hand and use any external resources as supplemental material, not the other way around.
Grading scale for map analyses
All map analyses will be graded using the following rubric:
| Category | (1) Does not meet expectations | (2) Approaches expectations | (3) Meets expectations | (4) Exceeds expectations |
| --- | --- | --- | --- | --- |
| Rhythm analysis | The writer makes no attempt to relate song rhythms with mapping rhythms, or if they do, most if not all of that information is incorrect. | The writer tries to relate song rhythms with mapping rhythms, but some of that information is incorrect (e.g. using the wrong terminology). | The writer is able to accurately explain how song rhythms relate to the mapping rhythms chosen by the mapper with the correct terminology. | The writer seems very proficient and shows mastery in relating song rhythms to mapping rhythms, pointing out relevant changes in rhythm and using the appropriate terminology as necessary. Additionally, the writer is able to explain why certain rhythms were chosen over others, both musically and mapping-wise. |
| Structure analysis | The writer makes no attempt to describe relative and absolute structure used in the map, or if they do, most of that information is incorrect or not explained in detail. | The writer tries to describe relative structure and absolute structure, but some of that information is incorrect or the writer doesn't relate the structure used to the song itself. | The writer is able to accurately explain both relative and absolute structures used in the map, as well as how these structures relate to the song itself. | The writer shows mastery in talking about structure, and is able to clearly explain which kinds of structures are being used, where they are being used, and why this makes sense in terms of the song and map itself. The writer may also talk about how to achieve these techniques with the editor, or how common certain techniques are used based on time period in mapping history, type of map, etc. |
| Theme analysis | The writer makes no attempt to describe a theme for the map as a whole, or if they do, the writer doesn't attempt to support their argument. | The writer understands that there is a clear theme in the map, but doesn't supply the most convincing evidence to support their argument. | The writer is able to accurately explain the theme of a map, and is able to properly describe how certain mapping patterns in the map lead to this conclusion. | The writer clearly understands the kind of map the mapper was going for, and is able to back up this assertion with specific examples from the map. Additionally, the writer relates the theme to the map as a whole. |
| Song analysis | The writer makes no attempt to compare, contrast, and talk about the different sections of the song as a whole. | The writer makes some attempt to talk about how the song changes over time, but does not explain in detail why these changes occur, or does not use the appropriate terminology. | The writer is able to accurately explain when and why changes in the song occur, describes in detail how any instruments relate to the vocal line (if present), and uses the appropriate terminology. Additionally, the writer talks about the different sections of the song as a whole, and how musically the song changes over time. | The writer shows mastery in talking about the song as a whole, is able to accurately explain changes in the song with the proper terminology, and is able to accurately explain how and why the map changes as a result of this. Additionally, the writer shows clear understanding of the different sections of music, as well as how musically these sections of song are divided and why. The writer may also talk about changes in song rhythms and attempt to compare these changes on a global scale, and is able to assert how certain song rhythms change and why. |
| Movement analysis | The writer makes no attempt to talk about the movements a player has to make as they play throughout the map, or these movement assertions are incomplete or incorrect. | The writer makes some attempt to describe movements a player has to make, but these assertions aren't as significant as other movements in the map, or the writer fails to notice different movements throughout the map. | The writer is able to accurately explain different movements throughout the map, as well as how these movements differ from one another as the song progresses. Additionally, the writer may make some attempts to relate the movements of a player to the map as a whole. | The writer clearly understands how manipulating a player's movements affects the map as a whole, and is able to accurately explain the movements a player has to make in a map, as well as why musically (from both a local and global perspective) this makes sense. Additionally, the writer may describe how the changes in player movements influence the feel of the map at any given moment, explain how certain movements appeal to certain player demographics, or describe how certain movements affect playability as a whole. |
Published: November 19, 2019
Last Updated: November 19, 2019